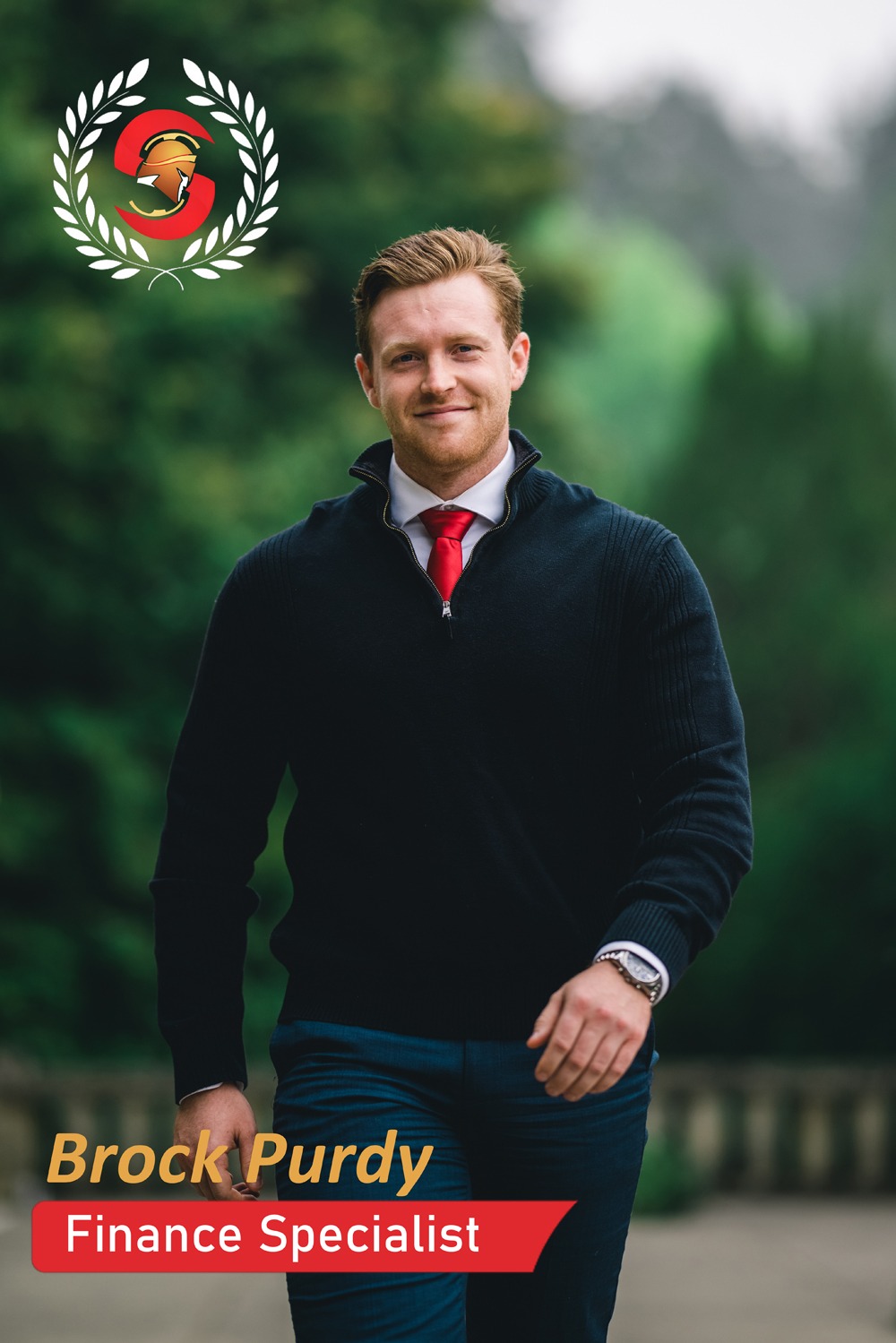 Brock Purdy
Finance Assistance
What kind of work do you do at Sparta Finance?
My role at Sparta Finance is a finance assistant. I'm typically the first contact that our clients that apply for a loan, and assist with getting an initial application filled out. From there I assist getting all the supporting documents to help ensure that we get the best approval possible for clients. Working as a team is critical to making the impossible become "I'M POSSIBLE!"
What is your favorite quote or life lesson?
"Shoot for the moon, even if you miss, you'll land among the stars" – Norman Vincent Peale
To me it represents that as long as you keep your goals and aspirations big and crazy enough, that even if you come up short you would have made progress and growth moving forward.
Where is your hometown?
Victoria, BC – the beautiful and magical island with almost no winter.
What do you love about helping others?
What I love most about helping others is seeing the joy they get after helping them achieve what they once thought was impossible.
Where are your top 3 favorite places and why?
Vancouver Island – I was fortunate enough to be born and raised on Vancouver Island. The ocean and surrounding nature is the best! Being surrounded by nature is where I feel at home.
Barcelona, Spain – Barcelona was an amazing place to visit. From the beaches to the architecture, it's a truly amazing sight to be seen. The city is filled with culture and the food is delicious.
Lauterbrunnen, Switzerland – An amazing little village nestled in a valley between the Alps. It's something straight out of a Disney movie, nothing but large fields, glacier fed rivers, and livestock from the small farms. I consider myself very lucky and fortunate to have experienced the beauty in person.
Who is your favorite superhero, hero, character, or person and why?
My favourite superhero would have to Spiderman. It was one of my favourite cartoons I watched as a child. What I like most about Spiderman is his wittiness, web slinging, and how it takes place in New York City.
What is your favorite food?
My Favourite food would have to be fresh west coast seafood! Once again growing up on the west coast I was very fortunate to have the most amazing seafood right in my "backyard". I did lots of salt water fishing and crabbing, still do when I can. I love fresh spring salmon, Dungeness crab, scallops, oysters, and mussels!
Outside of your financing profession, what is your passion?
One thing that I am passionate about outside of work is sports! Growing up I played a lot of sports including: Hockey, basketball, football, skateboarding, snowboarding, and wakeboarding. I consider myself a competitive person and love to challenge myself! I'm a huge Canucks, Raptors, and 49ers fan!
Whether it's watching the game, playing the video games on Xbox, or collecting sports cards; I can't get enough!
What makes you extraordinary?
Something that makes me extraordinary is my compassion I have for others. I'm always willing to give a helping hand, and believe the wold would be a better place if more people thought the same way.